What is the right type of sewer system for your project?
The geographic area of the project is the main determining factor.
Vacuum systems are usually found in areas which have a high water table or have very difficult rock conditions. Vacuum systems are usually found in areas that are flat, as negative pressure systems have limitations as to how much uphill, sewage can be sucked. Pipework is laid relatively flat in the ground and the whole intention of this type of system is to ensure that construction remains as shallow as possible. This reduces costs, time and environmental impacts.
The population size and density if also a factor. Extreme high density areas, such as you would find in major cities, usually lends itself to gravity sewers. Sparsely populated rural areas might normally be a grinder pump systems. Have a look at our Project section to see of there are projects similar to yours.
Although gravity sewers are historically the preferred choice for many utilities, infiltration and inflow (I&I) has become one of the most significant factors that are forcing utilities to look for choices that will reduce water getting to the treatment plant affecting issues surrounding discharge options and energy use.
In many cases it may be a combination of some or all available solutions.
For a Free Concept Drawing and Budget please Contact Us
We will need flow information and a layout of your project area.
Grinder Pump or Low Pressure Sewer Systems
Grinder Pumps can be an ideal solution for small communities of under 100 houses especially when located in hilly areas where large housing blocks are spaced apart. Pumps can quite often be used in combination with vacuum or gravity schemes when wanting to attach small outlying communities or houses to a municipal scheme. The use of trenchless pipe installation can be attractive in certain areas as this is not possible with vacuum or in most gravity installations.
There are a few reasons why grinder pump systems have been banned from use in communities.
Power Use. In a power outage there is no back up power supply available leaving the community without service for as long as it takes to rectify power.  Both gravity pump stations and vacuum pump stations can be provided with a back up generator ensuring no loss of service.
Septicity. In seasonal communities or in staged private developments sewage can sit in a force main for a considerable time before getting to the treatment plant.
Access. Generally grinder pumps are situated on private property. For any repairs or replacements utility operators are required to go onto homeowners property to do any maintenance which may result in sewage spilling over gardens or lawns. Access may also prove problematic if there are dogs or after dark. All gravity and vacuum sewer infrastructure is on public land so no access is required. Pumps located within the property can be costly if easements are required to be paid for by the County.
As pumps are generally located on the home owners property and operational and power costs often need to be met by the homeowner there is often a negative reaction by communities when other alternatives such as vacuum are available.
Gravity Sewers
Usually communities have been left unsewered because the area is too difficult or expensive to install a gravity sewer. Gravity sewers have been used for hundreds of years but moves to improve health and safety of operators, reduce power and water use, reduce I&I  and reduce environmental damage has led to a movement away from their use.
Large diameter pipes rely on a movement of sewage via gravity down a pipe until it is too deep then a pump will bring it back to the surface where it begins the process again. There are a number of problems with this. As old systems have broken pipes, sewage contaminates ground water and fishing areas causing health problems and stormwater enters the sewer system churning energy with both pumping and treatment.
One of the most complex problems with gravity sewers is in their construction. Many systems require deep excavation, going down as deep as 20 meters (70 feet) or multiple pump stations which require land and power. In many towns the space is simply not available. Water, stormwater, power and communications cables also need room under the street. Construction time can be costly and time consuming. Not good for developers nor local residents. Imagine 100 foot a day of excavation through coffee rock or acid-sulfate soils.
It is very common to read in the press of "fat icebergs" building up in the sewers or of rat infestations.  Do operators really need to put up with this in the 21st century? Do they need to risk their lives in gas explosions from gas build-ups' in the sewer?
There are hidden costs in installing a gravity sewage system. Click here:
Vacuum Sewers
There has certainly been a perception that vacuum systems are new and are difficult to maintain, this is not the case. Standards in many countries, including Europe, have required monitoring of the full vacuum collection network including valves, collection pits, pipework and pump stations. Not only for troubleshooting but more importantly for detecting I&I which is significant for many utilities. (System Monitoring)
Typically vacuum systems are found in area's where it has been too hard to install a gravity sewer.   Have a look at our page Types of Projects for the variety of vacuum projects which are being  done. Today you can also see them being used to supplement overburdened gravity sewers in fast growing towns and cities, or in area's which regularly have earthquakes, floods and hurricanes. Also the replacement of old gravity sewers that are succumbing to climate change and rising water levels.
Vacuum Systems are often found in flat areas which either have a high water table or difficult excavation due to hard rock.  But there are many other reasons for why a vacuum system may be the system of choice for your project. The average size project has 2,000 people but can be installed for 100 people or 100,000 people.
Advantages for the City/County/Council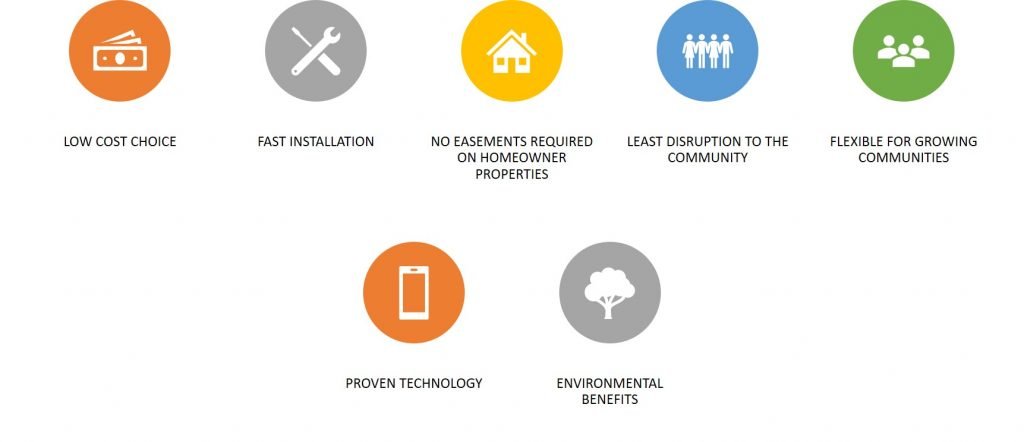 Advantages for Residents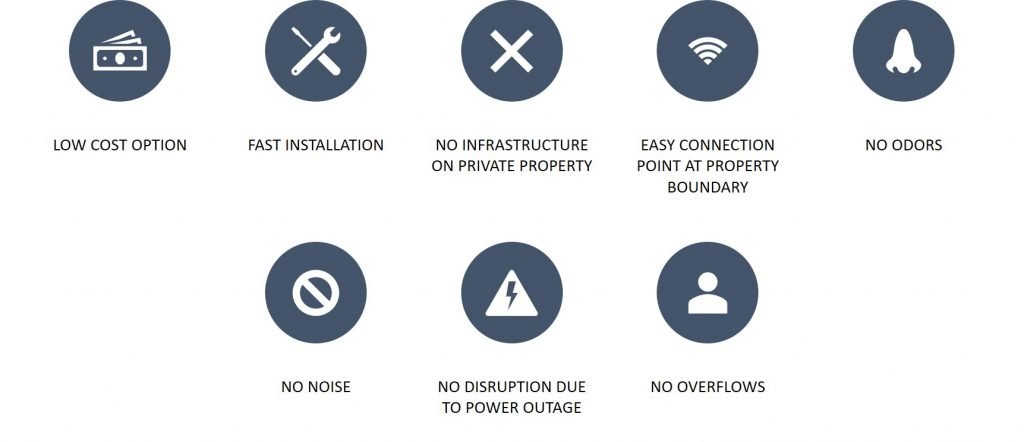 Advantages for the Environment
For a free concept drawing or budget please contact us here