What happens when six months of rain hits your town in one weekend.
The second weekend of December this year  saw nearly 500mm (20 inches) of rain hit the coastal town and tourist favorite Byron Bay in Northern NSW, Australia.
Over the last year, Byron Bay Shire Council has rolled out Flovac's new innovative wireless monitoring system. It alerts operators at council of any failures in the system and can even alert operators ahead of time in some cases.
Vacuum sewer systems are usually installed in coastal areas with a high water table. They are highly regarded for not letting in any stormwater or groundwater. Unfortunately this doesn't always stop infiltration occurring on the customers property.
Byron Bay Shire Council were one of the early adopters of vacuum sewer technology due to its green credentials of low energy and no overflows. But in recent years rising water tables and stronger storms had left the system vulnerable to infiltration, often taking the system down for days at a time.
Major improvements in wireless technology has allowed Flovac and Byron Shire Council to roll out a solution which has paid off in a very short amount of time. This weekend's major rainfall and flash flooding could have caused significant problems for the town.
The graph shows vacuum pressures within the collection network. You can see that when the heavy rains started on the 12th, vacuum pressures within the network collapsed to nearly zero in certain areas. This could of caused outages for residents but the problem was identified on this system and resolved quickly. As the rains continued another even bigger problem occurred late on the Sunday night. As you can see, this also was very quickly resolved and vacuum pressure returned to normal.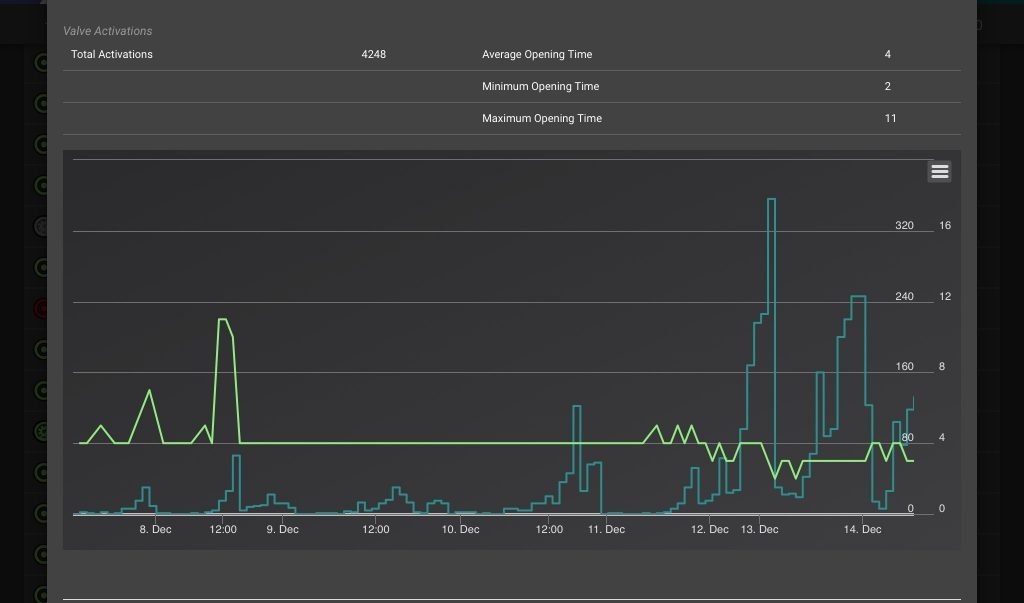 The operator was able to pinpoint the individual collection pit that was being inundated with water. The typical number of activation's for this valve is 60 per day. When the rain started the operator was alerted, via text that there was an unusual amount of activity. Over the course of Saturday and Sunday, this valve had activated more than 2,000 times indicating high levels of storm water infiltration. The operations team went directly to the address listed on the system and found a clean out cap on the homeowners property was broken allowing stormwater to enter the system. This was quickly fixed and the problem resolved.
The operator could then see that all vacuum valves in the system were operating normally and were showing green tags. If there were a problem the tag would turn red and a text would be sent directly to the operator.
Full financial payback within a very short amount of time, allowing operators to focus on other important problems within their city.