Flovac Wireless Monitoring for Vacuum Systems can be installed easily to existing systems and reduce operational costs and risks quickly.
Although we like to believe that vacuum systems are easy to maintain, (and never have problems) the reality is that many operators struggle. The ideal, is to have a couple of operators, fully dedicated to the vacuum system, someone who is "interested" in the system and understands it. Council's with reducing staff numbers need staff to perform many duties, many unrelated to the vacuum system which might only be a small component of their numerous assets.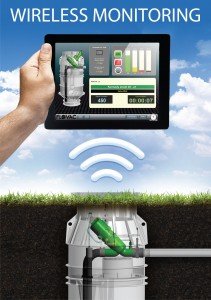 Over a number of years the Research and Development group within Flovac have worked on a variety of monitoring systems for the vacuum system. The vacuum pump station has always had a form of monitoring, often interfacing with the clients SCADA network.
Flovac's wired systems have been running for a number of years, with great success and with many happy clients. ( Details can be found here) Our specific client needs have come from utilities who already have vacuum systems and the laying of cable is not feasible. And so a wireless product was needed that could be retrofitted to systems.
Troubleshooting and System Analysis
Specifically clients wanted to know
If a potential overflow was going to occur.
Where in the system was a valve stuck open
Where was infiltration occurring.
Many clients who had outsourced their maintenance wanted to know if the callout charges and suggested problems were real.
Of course wireless systems for any council comes with a number of concerns. We quickly eliminated GSM systems due to running costs and unreliability, we also eliminated systems being used for water meters as their communication was only one direction which limited the capabilities of the system.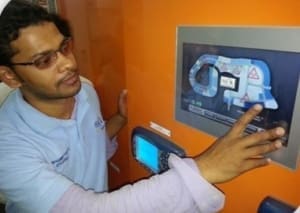 The main concerns were
Security
Band Use (we use 2.4 GHz and 900 Mhz)
Reliability and resilience
Power use
Use of repeaters.
Platform used and integration with other council platforms and SCADA
Our initial roll-outs have given clients far more benefits than they thought were possible.
Key findings by clients
Reduced operator overtime as callouts could be differentiated between urgent (high level alarm) and non-urgent ( valve open alarm). This not only reduced man-hours but also reduced the risks to operators of wandering around in the middle of the night, often during storms.
The high level alarm in the pit, took away the single highest risk for many of the councils, a potential overflow into someones yard or house.
Reduced operator man-hours as a fault could be located immediately without a long process of finding where a problem is.
The ability to see the vacuum pressure on each line highlighted area's where line flooding might be occurring, reducing the risks of pit flooding.
The automatic air injection system has reduced a number of operational issues and made redundant the use of EAAC'S.
The reduction in man-hours spent tuning a system as controller timing can be seen at the terminal has reduced energy costs within the systems
Fast and easy identification of any illegal storm water connections or other causes of infiltration.
All of the operators have been very happy to finally get all of the information that they need directly to their smart phones. this means that when they get an alarm they know immediately what is going on, how quickly they need to get there, and what they are likely to find. They also find it very useful to be able to see what the vacuum pressure is at the VPS when they are out in the field.
The installation of a monitoring system, either via cable or wireless, can reduce operational costs by 30-50% in certain systems, giving a payback period for the capital costs of less than 3 years.
The Flovac wireless monitoring system is able to work with brands other than Flovac.( i.e. Airvac)  If you would like more information or a presentation about the wireless monitoring system and its compatibility with your vacuum system please contact your closest Flovac office. (Contact Us)