The vacuum interface valve has a magnet inside the top section on the valve body. A special sensor attached to the valve body detects the movement of the magnet. The sensor will detect not only each time the valve opens and closes but it also detects how long each valve stays open.
As each valve tends to fire when 10 gallons (40 liters) enters the sump, we can tell the volume of the flows from the number of activation's. If there is a very unusually large amount of water entering the sump, the valve may take in a larger quantity of water during that one cycle. If that occurs we can detect that from how long the valve stayed open for.
As between 2-6 houses are connected to a collection pit then we have at least narrowed down the point of infiltration to a very small area.
There are only certain places in which water can enter the vacuum system. It cannot enter via the vacuum mains without quick detection as any break or hole in the pipework would lead to vacuum losses and this would be picked up via a long running alarm from the vacuum pumps. The leak would quickly be repaired.
Groundwater or stormwater will usually only enter the pit via the homeowners gravity line or via the collection pit itself in certain circumstances. Both can be easily detected by the monitoring system as all water needs to enter the system via the Flovac valve.
We can program your monitoring system to accept data from the local weather bureau or via a rain-bucket at the station. Alternatively after a major storm period it is worth glancing at a couple of easy to view charts. One is on the front page of the viewing screen and it shows the total number of activation's of all of the valves in your network on a hourly basis.
If a system was showing the affects of infiltration, then you might see a larger number of valve firings on the days of high rainfall. In this graph that is not the case.
If we did detect an impact we could look at data from individual pits. At a glance, again, from the front screen, we could look at a numeric list, in order of how many times each valve fired that day. The valves that had an unusually high number of firings could then be looked at more closely.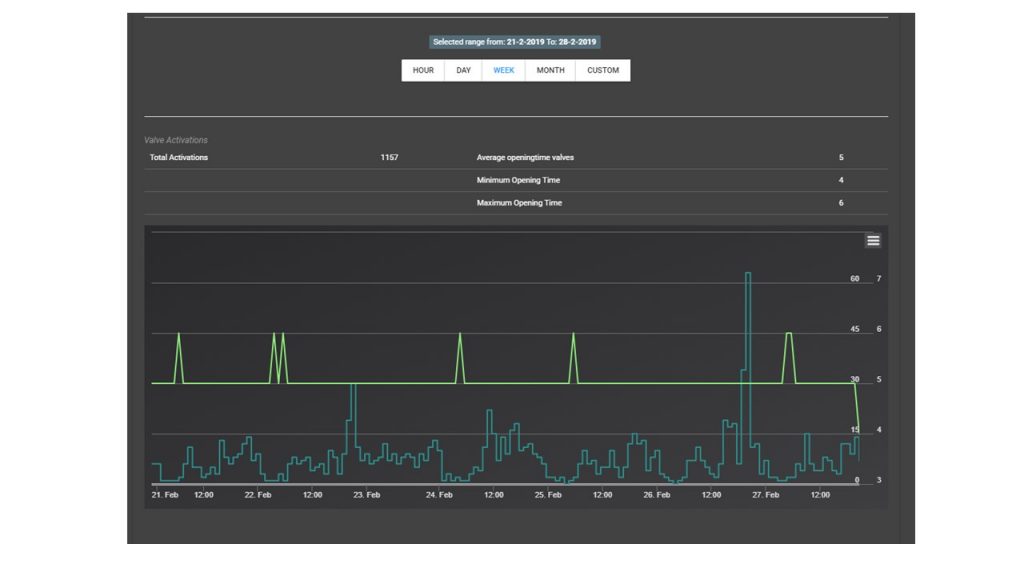 For more details on how to deal with a system that has I&I getting into it we will follow up with a report on the automated air injection system and also we will be putting out a report on the likely sources of that I&I that our operators have seen in the field and ways to overcome that.
If you don't want to wait for those mails to come out, contact us now and we can go over your situation.