There are two primary components of the wireless monitoring system that requires power. One is the gateway, and it requires the most power as it is talking to a lot of modules, all the time as well as sending information to the system. When we locate the Gateway at a vacuum pump station is quite easy to use mains power. If however it is somewhere more remote than potentially a solar panel and battery back-up could be an option. though hardwired would be best.
The module which is located at the collection pit, hopefully in a dedicated pillar receives information from the valve whenever it fires and sends that information to the gateway. It also receives any emergency signals from the pit such as a high level alarm or a valve stuck open alarm. It may also get information from a vacuum senor if that is installed in the pit. And if an automated controller is installed it will be activated by the module.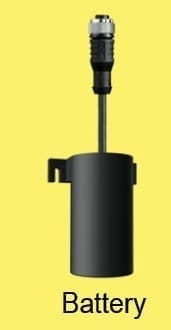 Battery used in conjunction with the wireless module.
The batteries length of life will be determined by how much use it gets. If it is used in a basic Pit with an average number of alarms, our operators would prefer to receive a signal once an hour that will let them know how many times it has operated and the average time that is open. That is sufficient information to get a guide as to how the valve is performing, whether any parts are wearing out, whether it should be tuned, whether there is infiltration occurring or unusual activity.
If a one particular valve fires far more than other valves, its battery use will not be any higher as we receive one message every hour telling us how many times that valve has fired.
Our operators also want alarms immediately. If this is a normal Flovac system, then there probably won't be any alarms. But as you would expect, the more alarms, the more battery use.
If the Pit has a vacuum sensor, maybe you only want a once an hour signal then the Flovac sensor has been designed to require very little energy which is quite unique. So a once an hour signal will not affect battery life. If it is at the end of the line, you may want a live pressure feed. This will consume more energy and so in this case we may incorporate an extra battery or be prepared to change the battery more frequently. In a normal running system we expect our batteries to run in excess of 10 years.
If the Pit is using an automated controller it will also require more battery power and depending on how often it is activated there is a chance that this battery will last less than 10 years.