On the A1 highway into Gaborone, the capital city of Botswana, commuters and visitors are wondering who and what are Flovac Vacuum Sewerage Systems and what is "The Green Future of Sewerage"? Web hits from the African continent have reached new heights and vacuum sewers will reach new area's.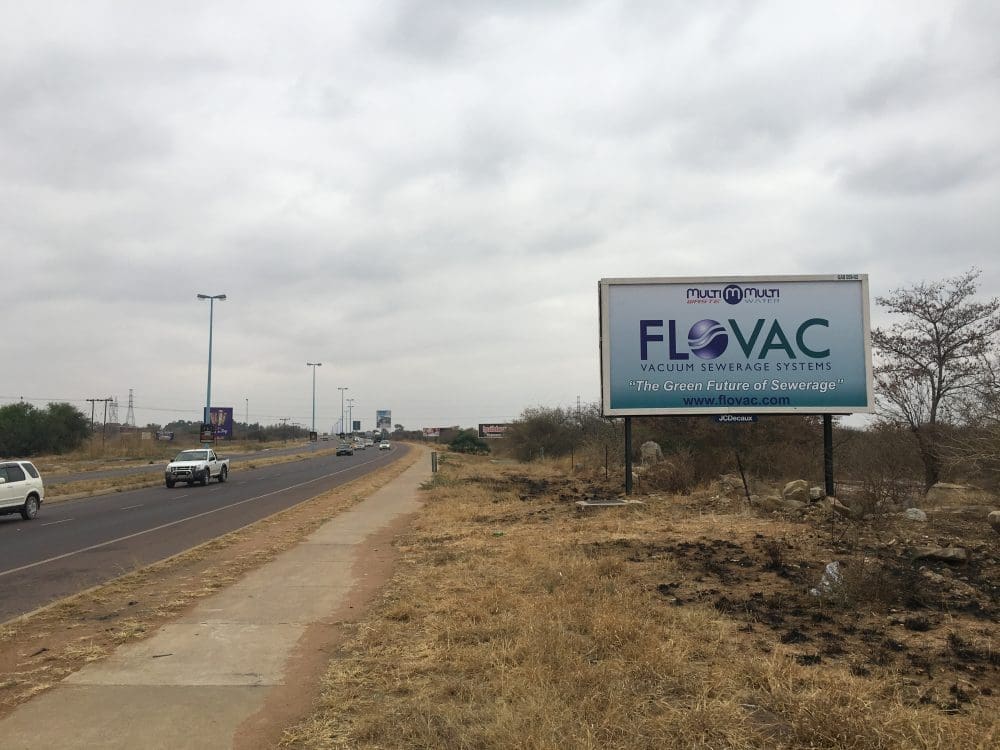 Earlier this year Flovac opened it's first office in Africa, teaming up with the highly respected Multi Water associate Multi Waste Group who specialise in water and wastewater solutions for the southern countries in Africa that include South Africa, Namibia and Botswana.
The attraction for John Davies, Managing Director of Multi Waste Ltd for introducing Flovac into Botswana were the green credentials that vacuum sewer systems offer a very dry country. Vacuum's ability to handle black and grey water separation  is very important in area's where you want to reduce the amount of water wasted through toilets and still enable the reduced flows to travel back to the pump station or treatment plant.
Not only do vacuum systems facilitate water savings, they also use less energy than other technological solutions. The other real benefits are the improvements to health by installation a tight system, the low impact on communities during construction, the low cost of construction and the ease of maintenance.
Project Manager Johannes Selke, has had long term experience with vacuum sewers and has seen Flovac's systems in the Middle East, Europe and Asia and knows that Flovac's commitment to providing solutions and operational support at a local level sets Flovac apart from any of its competitors and a strong reason why Johannes pushed for a tie up between Multi Waste and Flovac.
IFAT AFRICA
Last month Flovac participated for the first time at IFAT Africa in Johannesburg.  Flovac has participated at the biannual IFAT event in Munich for many years and saw IFAT Africa as a perfect place to showcase Flovac's Green credentials and launch the tie up with Multi Waste.
Multi Waste's MD Andrew Davies feels strongly that the South African market is the "market of the future" for Flovac's vacuum solutions. All of the nations of Southern Africa have the same problems with water savings and water shortages.
Water restrictions are common and when that occurs water consumption slips well below 100 liters per person per day. The impact that this has on sewage reticulation networks is terrible with odours and blockages. vacuum sewers however can handle the lower water flows due to the energy created by air entering the system along with the wastewater.
If you would like to contact one of our team from Africa please send details to [email protected] or get contact details on our web page.  https://flovac.com/contact-us-flovac-vacuum-sewer-systems/