When looking at a comparison between vacuum sewerage systems, gravity sewers or low pressure grinder pump systems the focus is often capital costs and operational costs. Vacuum sewers can be up 40% cheaper than alternatives when used in the right project. How will you determine what is important for your next project.
There may often be other considerations.
Environmental Risks
Impact on Residents
Resilience
Flexibility
Health and Safety
Confidence and Experience
In 2018 The Florida Water Environment Association prepared an extensive report, written by Jones Edmunds (a leading Florida based engineering firm), for the Florida Department of Environmental Protection (FDEP). The Report was a guidance document on Septic to Sewer infrastructure which included in in-depth look at comparative sewer solutions including vacuum technology. Florida is home to more than 2.7 million septic tanks as of 2020 and the FDEP is acting quickly to transition to safe sewers networks.
The independent report looked at capital costs and operational costs.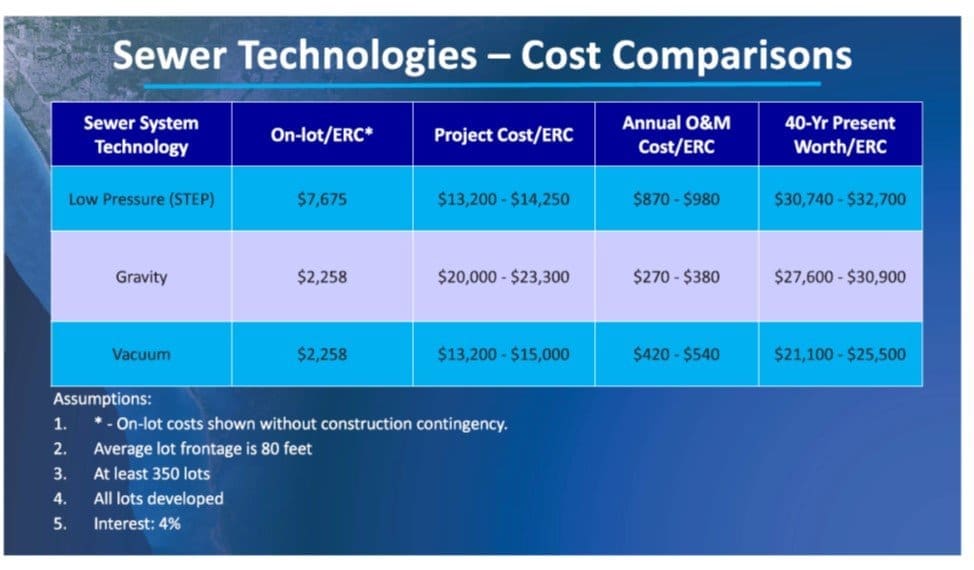 There are also a lot of other costs that do not often get taken into account when comparisons are being made. The Hidden Costs of Gravity Sewers
Electricity Costs and Requirements
In a vacuum sewer, a single pump station can usually service the entire catchment. The only location where power is required in the entire network is at the vacuum pump station which can have a generator back-up.
In a gravity network in the same terrain, multiple pump stations may be required. This would require higher power costs and increase the number of back-up generators needed.
If a low pressure pump system is used, not only is the power cost higher if you are servicing a large community. But it is also not practical to provide a generator at every house to ensure that the community is still serviced.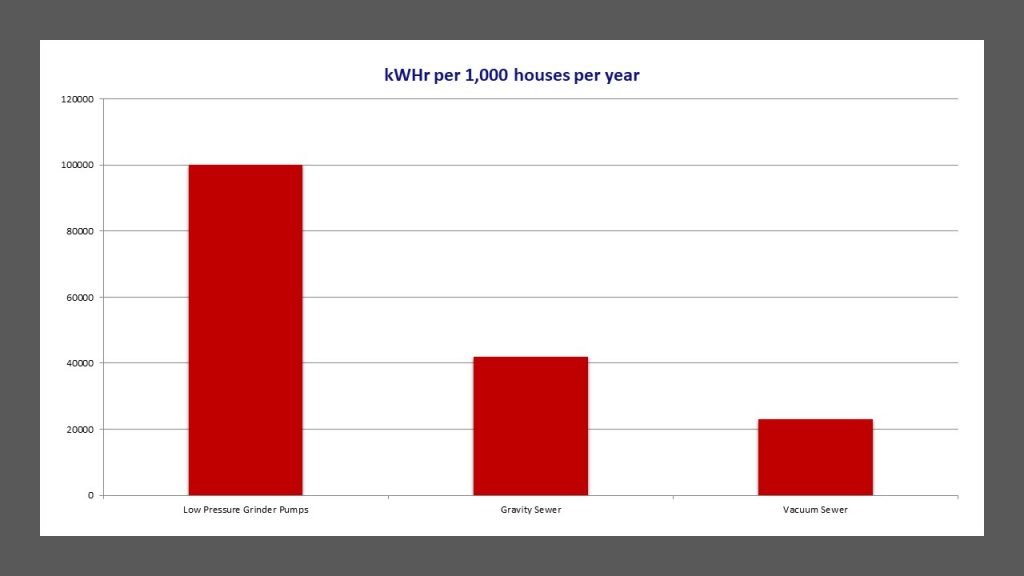 Flexibility
Vacuum Sewers can provide flexible solutions for towns and developers. Not all infrastructure needs to be installed on Day one. As the town expands, so can the sewer network. Flexibility is important for cashflow.
Flexibility with your network is also represented by the quality of the effluent when it gets to the treatment plant. When many systems are commissioned only a few homes may be connected. This may be due to a slow take up by residents connecting to the new sewer. Or it may be a staged development where new houses will be built and connected over a number of years. With a vacuum sewer system, wastewater will be propelled to the vacuum pump station and treatment plant quickly. Movement is affected by the air to liquid ratio that the operator maintains. This is not the case with pressure mains in low pressure and gravity sewers. Sewage may take a long time to reach the treatment plant and be in a poor condition with increased odors.
Operational Costs and Risks
Vacuum systems have no infrastructure on private property. Operations staff do not need to enter homeowners properties as all valves and stations are on county land.
Over the years costs have reduced dramatically with advancements in system monitoring. Potential failures can be predicted and corrected. Reducing the time operators spend on site reduces their risk and the risk of any potential overflows from misuse by residents. Flovac Monitoring Systems
A lot of the operational cost of gravity sewers is due to the problems associated with infiltration of stormwater and groundwater (I&I). This does not occur in vacuum sewers. If a homeowner is responsible for infiltration occurring then this can be detected easily due to system monitoring.
Gravity sewers also have maintenance problems with blockages from objects and from fat build up in the pipes. The velocity that is present in vacuum systems prevents blockages from occurring as can be seen in this independent test.
If you would like a more detailed options study on your project please contact us here.