Vacuum Sewers are the first choice if you worry about the health of your community.
Why are vacuum sewers used in areas that are environmentally sensitive? Many towns and cities have also discovered that not only are vacuum sewers the safest in environmentally sensitive areas they are also the safest technology when handling wastewater.
Everyone is fully aware of the health risks associated with cesspools and septic tanks. It is also clear from regular
news stories that combined sewers and gravity sewers often have overflows, especially during wet weather events. Raw sewage overflows lead to health risks through contamination through direct contact and via animals and food. Sewage also attracts vermin like rats and mosquitoes (Zika, Dengue).
Even pressurized grinder pump systems can cause contamination if a pipe is broken as sewage surcharges into the surrounding areas. This is covered in our story (Why Can't Vacuum Sewers Leak)
Vacuum sewers cannot leak and at no point within the system is sewage accessible to vermin. Vacuum sewers operate via a negative pressure differential. If a vacuum main breaks, nothing leaks out, air enters the pipe which notifies the operator of a break.
From the time sewage leaves the homeowners property and enters the Flovac Collection Pit operators are not in contact with sewage. Within the Collection Pit a floor separates the sewage from the valve. The vacuum mains between the collection pit and the vacuum pump station are completely sealed. At the vacuum pump station all sewage enters a closed collection tank and from there via a force main to the Treatment Plant.
We have seen numerous projects where vacuum technology has been used specifically because of its safety record. For example at the Animal Research facility in Norway Read Here, and at the Hanover disease control center
Vacuum systems are often used also in hospitals and laboratories to prevent the risk of contamination.
Environmental Issues
In the nineties nearly 20% of Florida's manatee population died due to an algae bloom which had intensified due to sewer overflows.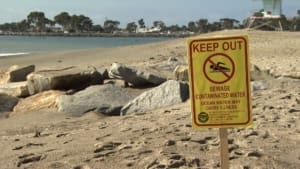 On average 140 beaches in the US are closed or have warnings due to sewage contamination. KawaKawa Bay in New Zealand which had been a source of shellfish and a place to swim for the indigenous population for hundreds of years was completely closed for ten years due to sewer overflows from a growing seaside community. It was only after a vacuum system was installed that the bay was reopened.
Sewage contamination readily degrades in the environment, but in water it can soak up oxygen from the waterway. Low oxygen levels can kill large numbers of fish and other aquatic life. Sewage also has toxic levels of ammonia that can poison aquatic life, along with many other contaminants.
Overflows contribute nutrients and sediment that encourage the vigorous growth of invasive weeds, such as willows, blackberries and privet, which often choke native species along stream channels and banks.
Vacuum Sewers are the best choice for your community
Vacuum sewers are the low cost option that are easy to install that an increasing number of communities are choosing. They have found that long term operational costs are much lower than other alternative they have tried. For a free concept and budget please contact us.