Flovac  Monitoring Systems
Imagine that you can know where and when stormwater enters your system. Know exactly where in a system you need to go at 2 in the morning when there is a call out, or if you need to go out at all. Understand exactly where to tune your system to get the lowest energy costs. The Flovac monitoring system highlights why vacuum systems are starting to be the preferred sewer systems even in area's where gravity may be cheaper. Assets managers want control and they want to know what is happening in their system.
Imagine remotely changing the settings on your system to accommodate peak holiday events like the 4th of July or New Years Eve, or to better handle severe storms and hurricanes from the safety of your home or desk. All of this is now possible.
Thoughtful designs and product improvements have reduced the problems that plagued many vacuum systems sold in the seventies and eighties.  To keep track of what is going wrong when call-outs to a system are infrequent, presents a challenge for operators. Where a problem is, what the problem is and how to deal with it, are the common requirements for any operator. Asset Managers also need a clearer understanding of the performance of their assets. Do the operators need better training, do assets need replacing or upgrading, what are the energy costs, is I&I an issue?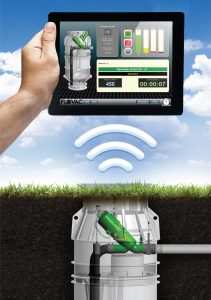 Many utilities with reducing staff numbers need operators to perform many duties, many unrelated to the vacuum system which might only be a small component of their numerous assets.
Over a number of years the Research and Development group within Flovac have worked on a variety of monitoring systems for the vacuum system. The vacuum pump station has always had a form of monitoring, often interfacing with the clients SCADA system.
For the past ten years or more European standards have required that vacuum systems have some form of monitoring for their vacuum valves and pits. Flovac's R&D group has remained at the forefront of developing solutions for their clients throughout the world. For a long time many clients relied on the product improvements within the system, but Flovac's monitoring systems have become so useful , easy to install and low cost that they have become a standard part of any system installation.
Troubleshooting and System Analysis
Specifically clients wanted to know
If a potential overflow was going to occur.
Where in the system was a valve stuck open
Where was infiltration occurring.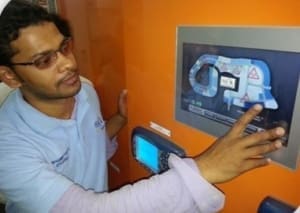 Key findings by clients
Reduced operator overtime as call-outs could be differentiated between urgent (high level alarm) and non-urgent ( valve open alarm). This not only reduced man-hours but also reduced the risks to operators of wandering around in the middle of the night, often during storms.
The high level alarm in the pit, took away the single highest risk for many of the councils, a potential overflow into someones yard or house.
Reduced operator man-hours as a fault could be located immediately without a long process of finding where a problem is.
The ability to see the vacuum pressure on each line highlighted area's where line flooding might be occurring, reducing the risks of pit flooding.
The automated air inlet system can be programmed to tune the system or change the air entering the system during seasonal population periods or extreme weather events. It also allows for easier staging of residential subdivisions when very few houses are connected to the system.
The reduction in man-hours spent tuning a system as controller timing can be seen at the terminal has reduced energy costs within the systems
Fast and easy identification of any illegal storm water connections or other causes of infiltration.
All of the operators have been very happy to finally get all of the information that they need directly to their smart phones. this means that when they get an alarm they know immediately what is going on, how quickly they need to get there, and what they are likely to find. They also find it very useful to be able to see what the vacuum pressure is at the VPS when they are out in the field.
The installation of a monitoring system, either via cable or wireless, can reduce operational costs by 30-50% in certain systems, giving a payback period for the capital costs of less than 3 years.
The Flovac monitoring system is able to implemented onto other suppliers valves.  If you would like more information or a presentation about the monitoring system and its compatibility with your vacuum system please contact your closest Flovac office. (Contact Us)